A destination that inspires your divine side or offers an amazing dune adventure or gives life to the unimaginable- it is the United Arab Emirates. It is a warm union of 7 sisters- Abu Dhabi, Ajman, Dubai, Fujairah, Ras Al- Khaimah, Sharjah and Umm Al Quwain. It's love child Dubai has raised a cosmopolitan skyline one can admire while its capital Abu Dhabi raises breathtaking mosques and Ferrari World adventures. Sharjah evokes the cultural and religious side of the UAE while Ras Al-Khaimah maintains its scenic status.
Many tourism companies in the UAE have designed and marketed their UAE tour packages that cater to all the needs and requirements of the visitors. Let's take a look emirate wise what each of them has to offer you:
ABU DHABI
A unique grid of entertainment
The Department of Culture and Tourism is dedicated to the evolution of Abu Dhabi. Abu Dhabi is decorated with classic mosques, entertainment parks, architectural wonders, and the unexpected mangroves. The most eye-catching structure in Abu Dhabi is The Emirates Palace. It is proof of beautiful amalgamation of contemporary art, regal garnishes, and modern hospitality. Your visit to the Grand mosque will be a divine journey to remember for a lifetime. The famous attraction of Abu Dhabi is the super thrilling Ferrari World. Be it a family visit or a visit with friends, Ferrari World is a must-visit if you are looking for a good itinerary for UAE trip. Architecture has raised unexpected challenges in the UAE. Sheikh Zayed Bridge is living proof of this.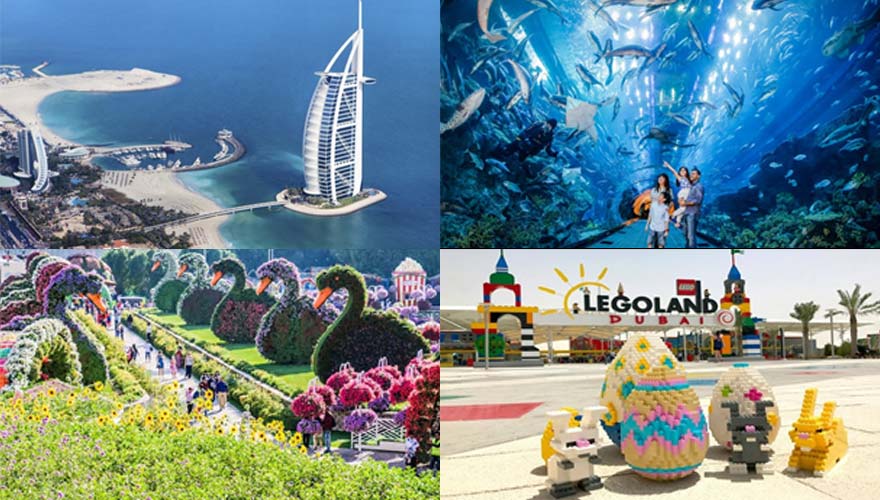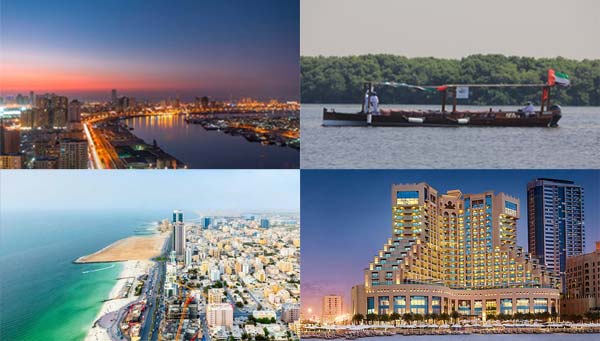 AJMAN
A pearl wonder
This tiny sibling of UAE is known for pearl diving and pearl commercial activities. You can attend pearl diving sessions and learn about its origin and how it is converted into commercial use. Ajman offers a lot of peace and space for beach activities and beach sports. Beaches of Ajman are sparkling clear in the entire lot. Some of the major hot spots are the Ajman Museum, Ajman Archeological site, Etisalat Tower, Shopping center, and Dhow Building Yard. It might be the least visited emirate but certainly worth the visit. So don't miss your visit to Ajman on your upcoming UAE trip.
DUBAI
The most decorated emirate
This emirate carries the WOW factor of a destination like a crown in the Gulf region. Synonymized with the most loved destination in the world. Dubai offers all to all. The high adrenaline activities allow you to explore the city from a different view. The Jumeriah Beaches are the most pristine while The Burj Ai- Arab stands high amidst the Arabian Gulf to adorn your visit. The beach restaurants await to offer your freshwater sea-food while Dubai Miracle Garden makes you believe in miracles. A good number of entertainment parks welcome you with different concepts and themes. A perfect local transportation network helps you to commute this dazzling city with ease. Cabs, taxis, and Dubai Metro commute to cater to the visitors' reach. World-famous chefs display their love for food art. Dubai Museum narrates historic realms to its visitors. A big list of yearly events breaths here.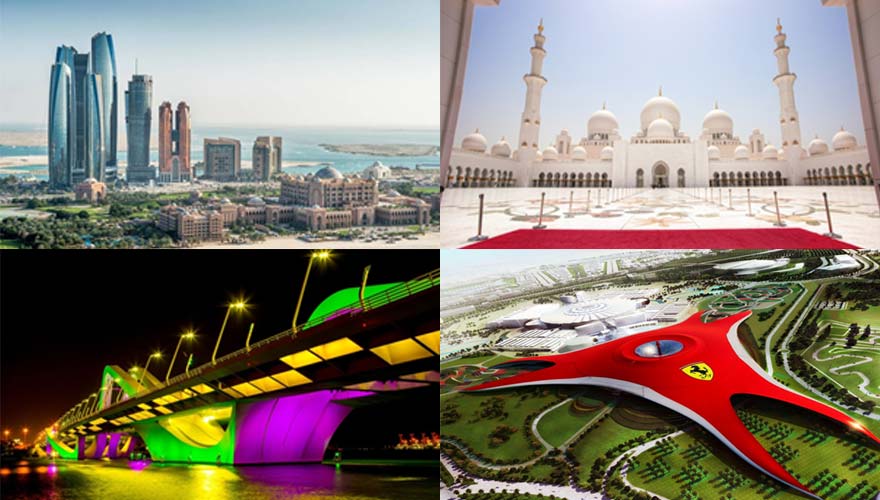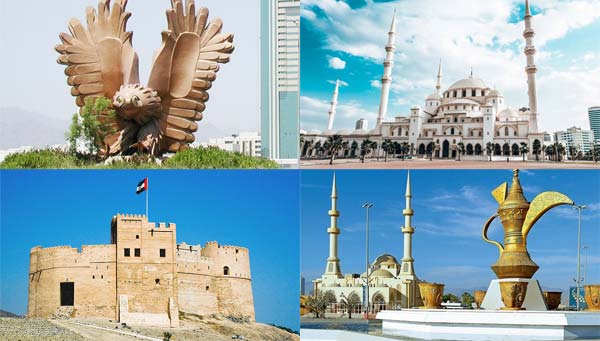 FUJAIRAH
For marine lovers
Explorers of the underwater world will find this emirate a treat to stay. Snoopy Island and Dibba are major attractions for marine life explorers. You can cruise your way o these attractions. This emirate rests with untouched beach beauty and impeccable mountains. Fujairah offers memorable road trips to the Hajar mountains and is amust in your itinerary of UAE Tour. Fujairah Mosque, Fujairah Museum, and Grand Mosque are your sure stops in this emirate. Fujairah has a coastline with contagious beauty. An evening stroll or a morning jog will give you a beautiful experience to cherish for.
RAS AL KHAIMAH
A quick and nice stopover
Another emirate that is guarded by the Hajar mountains is Ras Al-Khaimah. It's a beautiful setting in the mountains gives it a scenic edge to its credit. If you need a break, this emirate has to offer a good amount of water activities and amazing drives to you. This emirate hosts the longest zipline in the world. So don't miss it. Bask yourself in the Arabian desert with dune activities and rich Arabic meals you will crave for more. Experience a perfect desert stay in the Beoudin camps to live the historic era of Arabian civilization.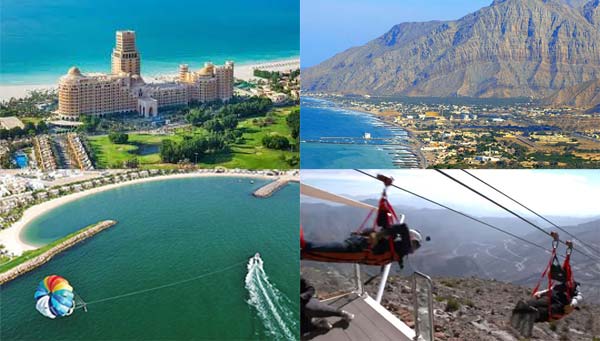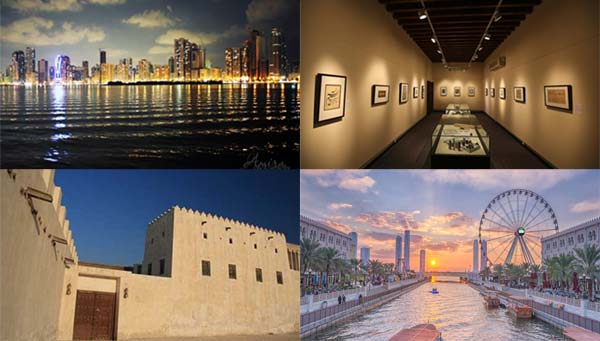 SHARJAH
Cultural Capital of UAE
Sharjah is the most conservative emirate of UAE. UNESCO has captioned Sharjah as the cultural capital of the UAE. Bearing the responsibility of Islam's rich heritage and culture, Sharjah is the epicentre to promote and spread the religion and its traditions. You must visit the Sharjah Heritage Area as it is one of the most accurately restored heritage sites of UAE. Sharjah Fort is a sight behold as it evokes the secured forces of the UAE. Sharjah offers Calligraphy workshops for you to explore your inner artist while you can visit the Calligraphy Museum to admire one of the most creative graffitis of renowned calligraphists.
UMM AL-QUWAIN
The lagoon way
Who would have imagined that an emirate with lagoons and mangroves thrives in the middle of the desert? Umm Al- Quwain has a good number of well-maintained resorts. Al Sinniyah island has nature thriving within itself with migratory birds drooling over the lush green mangroves. You will come across the vintage look of old cafes with authentic Arabian cuisine. Motor racing enthusiasts can look up to this emirate as it is about to take centre stage for the same.
UAE tourism has been on the rise from the past few years. Some emirates are bustling with a party all day and night while others giving visitors a much-required tranquillity.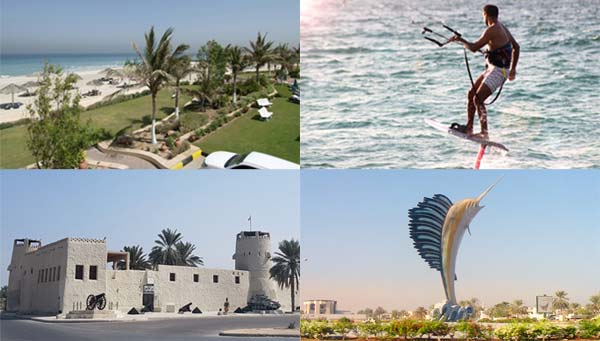 UAE Tourism is the most searched and visited destination in the world.
UAE Information
Currency :

UAE Dirham

Population :

9.346 million

Time Zone :

GMT +04.00

Area :83600 km2
Capital :

Abu Dhabi

Official Language :

Arabic

Capital's calling code :

+971-2